---
Keeping Up With The Kardashians: A look at the reality TV family who reinvented fame as the final episode airs
Written by Hitmix News on 11 June 2021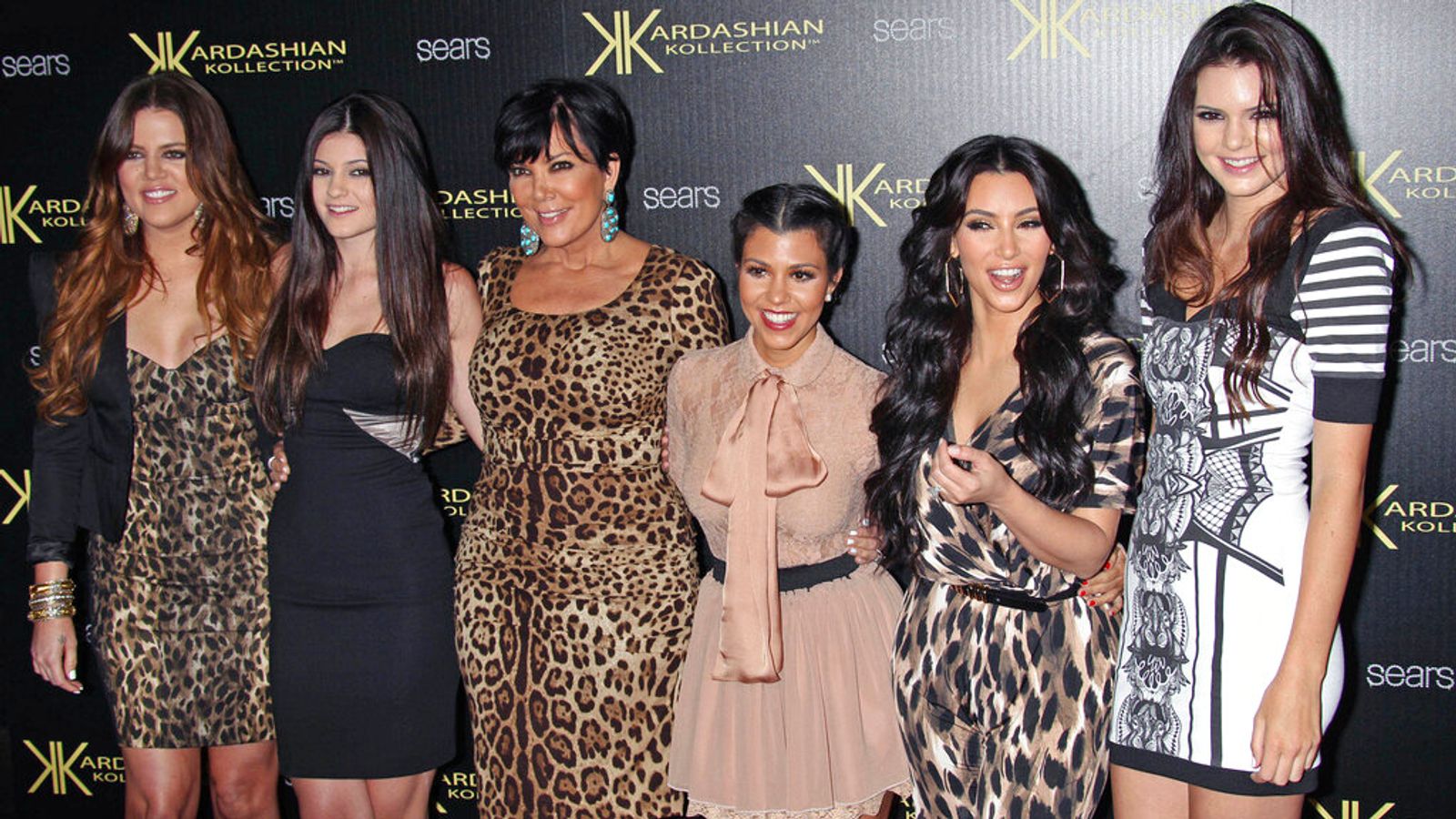 As the final season of Keeping Up With The Kardashians comes to an end, it marks the end of an era for reality TV.
After 14 years and 20 series reinventing what it means to bring your brand to the mainstream – with the help of social media and digital influence – the entrepreneurial family are moving on to pastures new. Here's a look at how Hollywood reality royalty created their kingdom and ruled for so long.
Kim Kardashian may have started out as Paris Hilton's wardrobe assistant, but she's ended up a billionaire.
Like her former employer, the 40-year-old also has a sex tape to thank for her early notoriety, however, she has left that far behind and is now one of the most recognised people in the world.
In 2014, Kim was credited with "breaking the internet" when she posed nude for Paper magazine.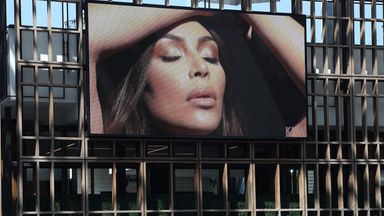 Image: Kim not only broke the internet, but also reinvented fame
With a business estimated to be worth around $50m and married to billionaire musician and Yeezy founder Kanye West, Kim and her family have built an empire on their fame.
The reality show that made them famous – Keeping Up With The Kardashians (KUWTK) – aired on E! network from 2007 as one of their flagship programmes.
However, "with heavy hearts" the Kardashians announced in 2020 that their 20th season will be their last.
The final episode, airing on Thursday evening in the US and on Sunday in the UK, is a momentous moment in the world of TV. Critically panned but regarded as a guilty pleasure by its legion of fans, KUWTK has been one of E!'s most successful shows.
And the family that is "famous for being famous" has not only perfected the art of fame, but also successfully monetised their every high-profile move.
The original goal of the show was to direct attention to the family's clothing stores, but it quickly became much more than that. Selling clothes became secondary to selling the Kardashians.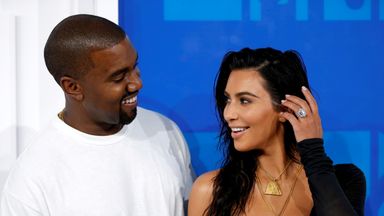 Image: Kim and Kanye married in 2014 and have four children together, but announced their break-up earlier in 2021
Presenter and producer Ryan Seacrest is one of the people responsible for bringing the show to the world, and he's called it a "highlight" of his career.
Throughout the series, Kim, Kourtney, Khloe, Kylie and Kendall, along with their mother Kris, have shared tears, laughter, numerous relationships and ever-increasing numbers of children.
The programme initially focused on Kim and her sisters, but later opened out to include other family members, including half-sisters Kylie and Kendall, who were just children at the time.
The show launched in the same year as the iPhone, and social media was a tool the family used to great effect in promoting their personal brand.
Already a wealthy Hollywood family, it's worth noting that theirs is not a rags to riches story, but riches to even greater riches.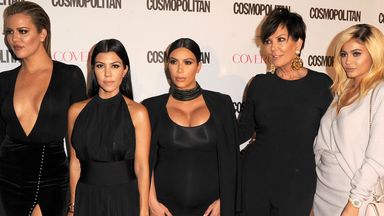 Image: (R-L) Khloe, Kourtney,Kim, Kris and Kylie work the red carpet in 2015
Rumour has it that Kris keeps a pile of nondisclosure agreements (NDAs) on a table in her foyer for guests to sign on entry, so blurred is the line between reality and reality TV when popping in for a visit.
But reality TV was a full-time job for the key family players in the show – 10 to 12 hours of filming per shooting day is the norm. Say what you like about their values, but the Kardashians' work ethic is impressive.
The show went on to generate numerous spin offs.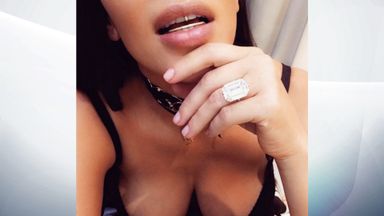 Image: Kim was robbed in Paris after sharing images of expensive jewellery
An armed robbery in Paris in 2017 opened Kim's eyes to the downside of everyone following her every move on social media.
She had posted a photo of a multimillion-pound ring on Instagram before the robbery. Despite being "badly shaken", the incident still featured on the show.
So, what now for the Kardashian clan? Well, it won't be too long before you see them again, as there's a two-part reunion, with the stars set to discuss the show's biggest moments, due to air later in June.
And each family member also has other commercial interests which have come about because of the show.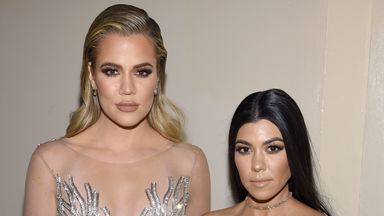 Image: (R-L) Sisters Khloe and Kourtney Kardashian
The eldest of the Kardashian siblings, Kourtney, 42, has her own lifestyle brand and e-commerce site, as well as other outside deals.
Khloe, 36, has appeared in various spin offs of the show, has her own denim line and executive-produced a true crime series.
Rob, 34, is less keen on the limelight than his sisters, but not so much to shy away from the cameras completely. He shares a daughter with model Blac Chyna and the relationship spawned its own E! reality show, Rob & Chyna.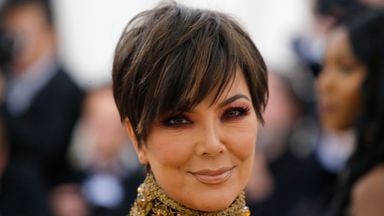 Image: Kris Jenner is largely seen as the business brain of the family
"Momager" Kris – widely seen as the puppet mistress behind the family's success – wisely takes a cut of her children's earnings when she negotiates their deals.
She also has her own lucrative endorsements and campaigns.
Her ex-husband, former Olympic athlete Caitlyn Jenner,had her own spin off series on E! – I Am Cait – and her transition from male to female opened many people's eyes to transgender issues, rarely explored on popular TV.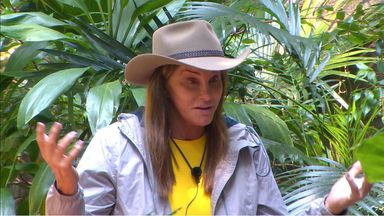 Image: Caitlyn Jenner in I'm A Celebrity… Get Me Out Of Here!
The Kardashians were supportive of her transition and haven't shied away from some of the more difficult issues around such a life change.
She has also written a memoir, has numerous endorsement deals and has appeared on I'm a Celebrity… Get Me Out of Here!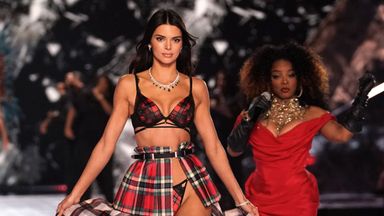 Image: Kendall Jenner at the Victoria's Secret 2018 show
Kendall Jenner, 25, is a successful catwalk model, and for two years running was reported to be the highest paid model in the world.
Last year, Forbes estimated her younger sister, Kylie Jenner, had a net worth of $1bn (£806m), calling her the world's youngest "self-made" billionaire at the age of 21.
However, the US business magazine later striped her of her status, claiming her make-up business Kylie Cosmetics had fabricated revenue figures to make the company seem more successful than it was.
Image: Kylie was briefly named the world's youngest self-made billionaire. Pic: Kylie Jenner Instagram
Kylie, now 23, denied all claims of wrongdoing.
Forbes later said a more "realistic accounting of her personal fortune" puts it at just under $900m (£729m) – still a substantial sum by anyone's standards.
She is also one of the most followed people on Instagram, with over 195 million followers.
Arguably the most famous of the lot, a large part of Kim's fortune comes from her KKW Beauty line, which brought in more than $100m in revenue in 2019.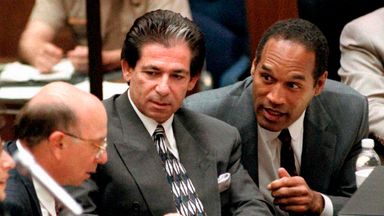 Image: Robert Kardashian (C) was part of O J Simpson's legal team in 1995
She's also branched out, surprising many of her detractors by studying to become lawyer like her late father Robert Kardashian, who was part of OJ Simpson's legal team during his 1995 murder trial.
Earlier this year, she announced she was divorcing her rapper husband Kanye West, father of her four children, with the split featuring in final season of KUWTK.
In her social media post announcing the end of the show, Kim acknowledged the part it has played in her and her family's fame: "Without Keeping Up with The Kardashians, I wouldn't be where I am today… This show made us who we are and I will be forever in debt to everyone who played a role in shaping our careers and changing our lives forever."
View this post on Instagram

To our amazing fans – It is with heavy hearts that we've made the difficult decision as a family to say goodbye to Keeping Up with the Kardashians. After what will be 14 years, 20 seasons, hundreds of episodes and numerous spin-off shows, we are beyond grateful to all of you who've watched us for all of these years – through the good times, the bad times, the happiness, the tears, and the many relationships and children. We'll forever cherish the wonderful memories and countless people we've met along the way. Thank you to the thousands of individuals and businesses that have been a part of this experience and, most importantly, a very special thank you to Ryan Seacrest for believing in us, E! for being our partner, and our production team at Bunim/Murray, who've spent countless hours documenting our lives. Our last season will air early next year in 2021. Without Keeping Up with The Kardashians, I wouldn't be where I am today. I am so incredibly grateful to everyone who has watched and supported me and my family these past 14 incredible years. This show made us who we are and I will be forever in debt to everyone who played a role in shaping our careers and changing our lives forever. With Love and Gratitude, Kim

A post shared by Kim Kardashian West (@kimkardashian) on Sep 8, 2020 at 2:34pm PDT
With their innate talent for re-invention and self-promotion it's a safe bet that the Kardashians won't be out of the public eye for very long.
Indeed, just a few hours before the social media post announcing the end of KUWTK, Kim, Khloe and Kourtney announced a new fragrance collection.
Based on precious stones, it's an apt symbol for sisters who are able to sniff out a promotion opportunity a mile away, and for whom the sweet smell of success is a now a reality – far, far away from their TV reality beginnings.
---